Virtual Terminal
Trinity Merchant Group offers a powerful enterprise solution that provides the complex infrastructure and security necessary for fast, reliable and secure transactions between you and your customers.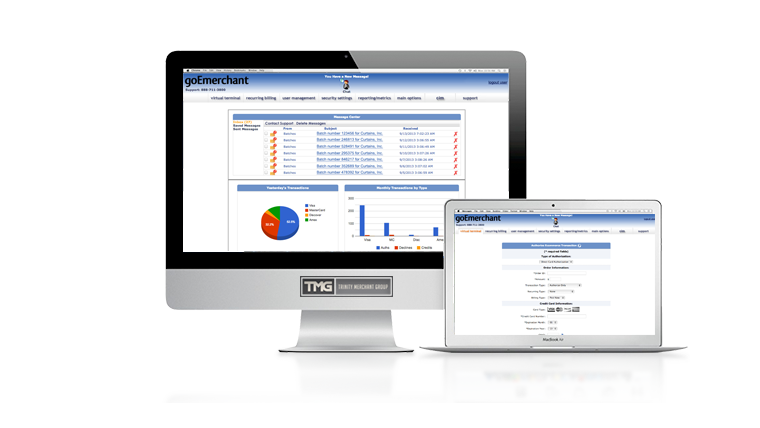 Utilize extensive analytics
Fully PCI-DSS compliant
Offer more payment options to your customers
Automated recurring billing for repeat customers
Unlimited users for large organizations
Free fraud prevention tools
Trinity's virtual terminal, powered by GoEmerchant, is a robust online application that revolutionizes the way business take payments from their customers. Long gone are the days of keying in all of your transactions into a credit card machine and then storing credit card information in a filing cabinet for recurring transactions.
Payment Processing
All major credit cards: Visa®, MasterCard®, American Express®, Discover®, Diner's Club, and JCB.
Signature Debit Cards
eCheck processing(bank draft)
Online account access
Manage and review transactions, configure account settings, view account statements, download reports, and more through the password-protected merchant interface.
Set up an unlimited number of user accounts with permissions to control account access.
Recurring Billing
Bill repeat customers without storing their payment information locally or asking for it each time.
Recurring billing for automatic handling of fixed online subscriptions through your customers credit/debit card or their bank account.
Customer Information Manager(CIM)
Great solution for dynamic recurring transactions.
Eliminate asking your customers for their card information every time they purchase for you.
The CIM can store both credit/debit card information as well as bank account information in a completely encrypted format, ensuring the safety of security of your customers sensitive information.
Online Invoicing
Email invoices to your customers and allow them to make payment right then and their inside their actual email without clicking on a link and navigating away from their inbox.
Reduces PCI security risks by eliminating paperwork with credit card information being emailed or faxed between parties.
Fraud Detection
Prevent suspicious and potentially costly fraudulent transactions with our customizable, rules-based fraud detection capability that we assist you in setting up to meet your specific needs.
Address Verification Service (AVS)
Card Code Verification (CVV2)
Support for Verified by Visa and MasterCard SecureCode™.
Give us a call to get a live demo and see for yourself what you are missing out on!